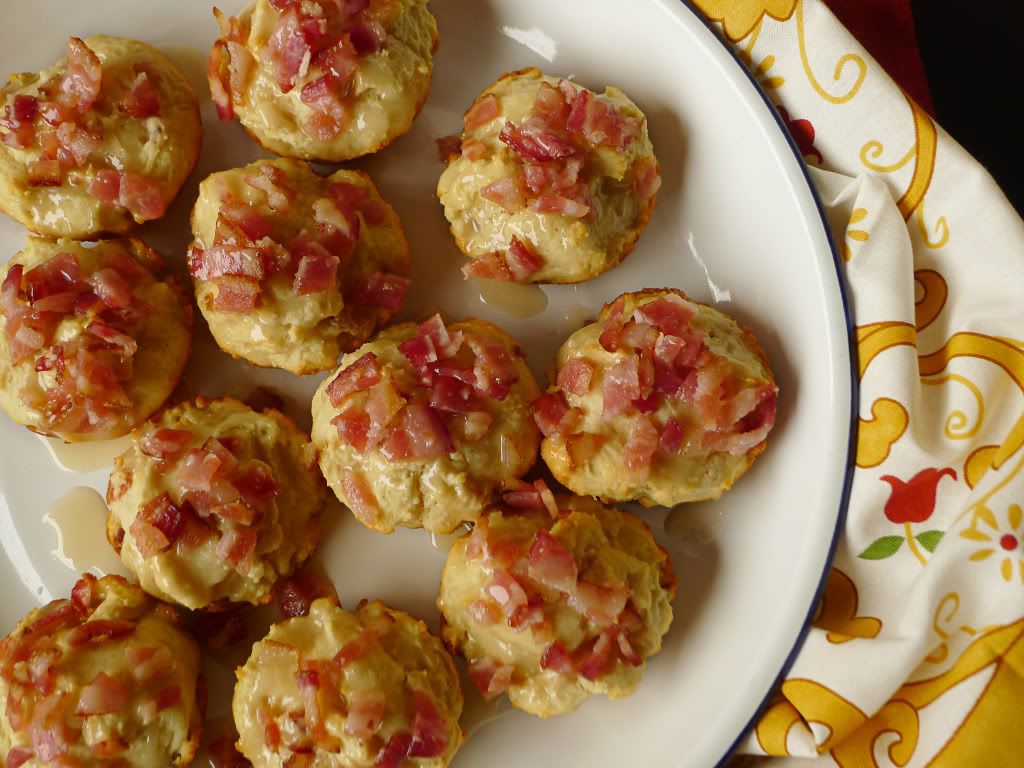 Every cook has their own little stash of special ingredients tucked away in a pantry, cabinet or in the back of the refrigerator.  For me, it's Maseca because it's so versatile in practically every meal occasion.
Today, I wanted to cook something sweet and savory and something that I can enjoy over a cup of coffee or even a glass of orange juice.
I would say that the bacon trend is still pretty strong with some restaurants adding bacon to almost everything (including milk shakes) and Twitter leading the way with #replacemovienameswithbacon.
So I decided to jump on the bandwagon and bake something with Maseca that included bacon, before the trend died down.
A few weeks back, I had breakfast at a popular Santa Monica restaurant and ordered the best (and only) maple bacon biscuit I've ever eaten.
The biscuit was definitely made with corn flour so I decided to put my thinking cap on and recreate it as a muffin with none other than the ingredient I always have at home, Maseca.  After only one try, I had success.  The saltiness of the bacon, brought out the depth of flavor from the corn flour, brown sugar and pecan-maple glaze.   The combination was perfect.
I love cooking with Maseca because no matter what the next food trend will be, I am ready to tackle it with Maseca by my side.
For more fun recipes like this one and some great information on the benefits of  Maseca visit Maseca's website at mimaseca.com
Bacon Corn Muffins with Pecan - Maple Glaze
Ingredients
1/2 cup Maseca
8 strips bacon
3/4 cup all-purpose flour
3/4 teaspoon salt
2 teaspoons baking powder
2 tablespoons brown sugar
3/4 cup milk
1 egg
3 tablespoons butter, melted
1 tablespoon reserved bacon fat

For Glaze:

1/3 cup powdered sugar
3 tbsps Pecan Maple Syrup
Instructions
Preheat oven to 375 degrees.
Place bacon onto a baking sheet and bake about 20 minutes. Remove from baking sheet, set aside and reserve 1 tablespoon of the bacon fat. Let cool and chop into small pieces.
Spray a mini muffin tray with non-stick cooking spray and set aside.
In a large bowl combine Maseca, salt, flour, baking powder, and brown sugar. In a separate bowl whisk the milk, egg, melted butter and bacon fat then whisk into the dry ingredients. Add 3/4 of the chopped cooked bacon, reserve remaining 1/4 for a garnish.
Fill each muffin cup with 1 tablespoon of batter. Bake in oven for 12-15 minutes or until a tooth pick inserted into muffin comes out clean. Let cool before glazing.

Glazing

Whisk powdered sugar and syrup until completely combined. Drizzle over each muffin and sprinkle with bacon pieces.
http://www.nibblesandfeasts.com/2011/12/bacon-corn-muffins-with-pecan-maple-glaze-cooking-with-maseca/
Copyright Nibbles and Feasts
This post is part of a sponsored campaign with Maseca and Latina Bloggers Connect.  All opinions are my own.
Otra vez…en español!

Cada cocinero tiene su propio pequeño alijo de ingredientes especiales y escondidos en una despensa, la alacena o en la parte posterior del refrigerador. Para mí, es Maseca porque es muy versátil en casi todas las ocasiones.
Hoy quería cocinar algo dulce y salado y algo que yo pueda disfrutar con una taza de café o un vaso de jugo de naranja.
Yo diría que la tendencia de cocinar con el tocino sigue muy fuerte con algunos restaurantes añadiendo tocino a casi todo (incluyendo a licuados con helado) y hasta Twitter tuvo algo que ver Twitter con #replacemovienameswithbacon como uno des sus temas mas populares.
Así que me decidí a seguir la tendencia y cocine algo que contiene tocino, antes de que se acabe su popularidad.
Hace unas semanas,  desayune en un conocido restaurante de Santa Mónica y ordene el mejor (y único) panecillo con tocino que he comido en mi vida.
El panecillo estaba firme y delicioso, y definitivamente contenía harina de maíz, así que me decidí a recrearlo en casa con nada menos que el ingrediente que siempre tengo en casa, Maseca. Después de sólo un intento, tuve éxito. El sabor salado del tocino, balanceo la profundidad del sabor de la harina de maíz, el azúcar morena y el glaseado de nuez y arce. La combinación es perfecta.
Me encanta cocinar con Maseca, porque no importa lo que la tendencia de la comida que viene será, estoy lista para enfrentarla con Maseca a mi lado.
Para más recetas divertidas como ésta y una gran información sobre los beneficios de Maseca visite mimaseca.com.
Panecillos de Maíz y Tocino con Glaseado de Nuez y Arce
1 / 2 taza Maseca
8 tiras de tocino
3 / 4 taza de harina
3 / 4 cucharadita de sal
2 cucharaditas de polvo para hornear
2 cucharadas de azúcar morena
3 / 4 taza de leche
1 huevo
3 cucharadas de mantequilla derretida
1 cucharada de grasa de tocino reservada
Para el glaseado:
1 / 3 taza de azúcar (glas) en polvo
3 cucharadas de jarabe de arce y nuez
Precaliente el horno a 375 grados.
Coloque el tocino en una bandeja de horno y hornee unos 20 minutos. Reserve el tocion y 1 cucharada de la grasa del tocino. Deje enfriar y corte el tocino en trozos pequeños.
Rocíe una bandeja de mini-muffins con spray para cocinar antiadherente y deje aparte.
En un tazón grande, combine la Maseca, sal, harina, polvo de hornear y el azúcar moreno. En un recipiente aparte, bata la leche, el huevo, la mantequilla derretida y la grasa del tocino. Después añade a los ingredientes secos. Agregue 1/2 taza de trocitos de tocino a la mescla.
Llene cada molde con una cucharada de la mezcla. Hornee durante 12-15 minutos o hasta que un palillo se inserte en el panecillo y salga limpio. Deje enfriar antes de glasear.
Para glasear:
Bata azúcar en polvo y el jarabe de nuez y arce hasta que estén completamente combinados. Rocíe sobre cada panecillo y espolvoree con trozos de tocino.

Rinde 24 panecillos
Este post es parte de una campaña patrocinada por Maseca y Latina Bloggers Connect. Todas las opiniones son mías.