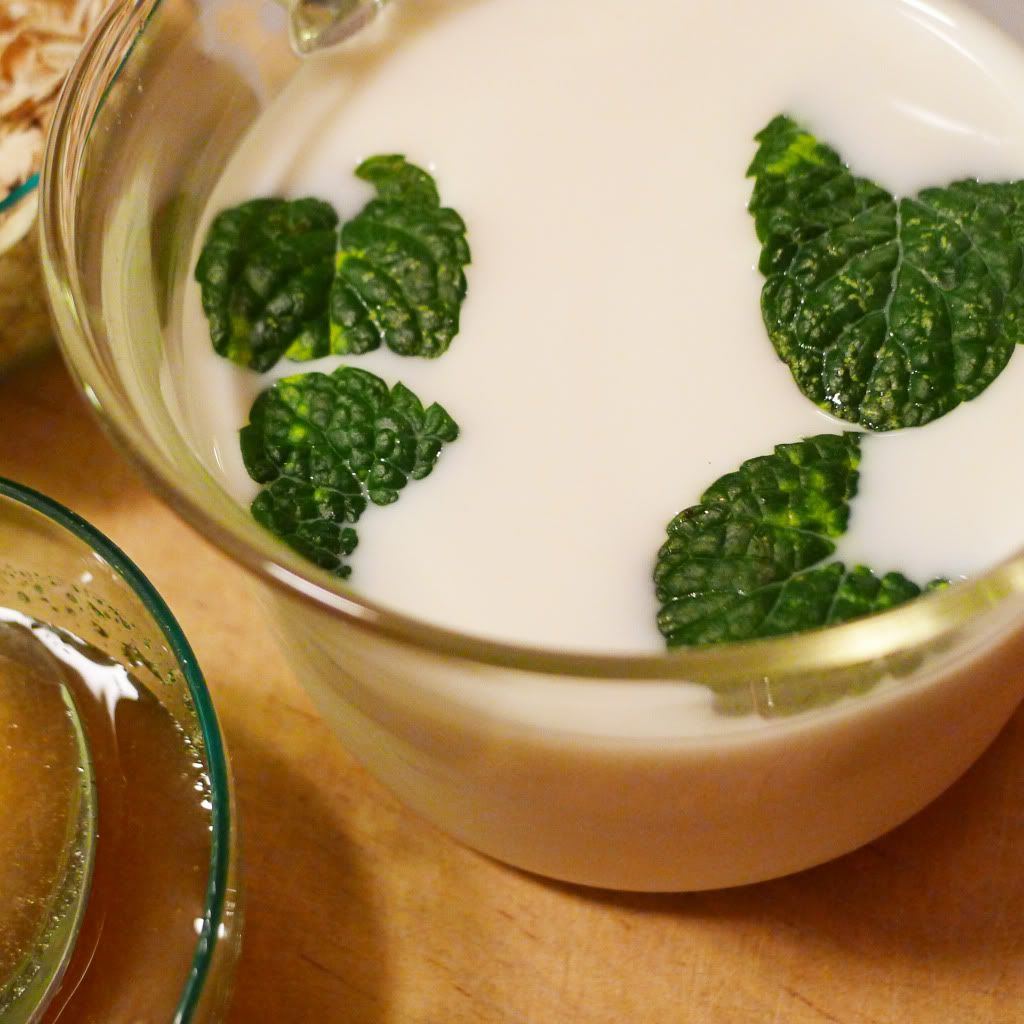 Yesterday, I took a day off and treated myself to something fun and girly.  My first though was a spa facial, but really, who has that kind of dough to spend these days…
So I looked in my fridge and my pantry for help… Milk! Oatmeal!  Honey! and some peppermint leaves from my window sill herb garden.   Score!
Milk has been an intrical part of beauty regimes through the ages.  Dating back to Cleopatra and her milk and honey baths.  Her beauty routines gave her beautiful, smooth skin and glowing, stunning beauty.
Milk contains a wide range of benefits, from the anti-oxidant effects of vitamins A and D, skin brightening nutrients and the rejuvenating effects of minerals such as calcium and potassium.
So today, I am taking a break from preparing something yummy for your bellies.  Instead, I will be preparing something yummy for your face.
Don't waste your hard earned money on expensive creams, cleansers and snooty spas. Milk contains a lactic acid that is also contained in beauty products.   This face mask is natural, effective and smells amazing.
The honey in this mask works as a humectant and a natural moisturizer.  The oats deeply cleanse your pores and act as an exfoliant.
Go ahead, give it a try.  I'm on day two and I can already feel the difference.  Cleopatra has nothing on me.
Peppermint Milk, Oats and Honey Mask
Ingredients
1 cup milk
3 tsp oats
2 tsp honey
4 mint leaves
In a small saucepan, simmer milk and mint leaves.  Let cool.
In a separate bowl add oats and honey then add milk and mix well with a spoon.  Carefully spread milk,oat, honey paste on your face avoiding the eye area.  Close your eyes and relax for 15 minutes.  Rinse with tepid water.  Refrigerate any leftover paste and use the next day.  Paste will last 4-5 days in the refrigerator.
This is part of a sponsored campaign with the California Milk Processor's Board and Latina Mom Bloggers. Connect with The Master of the glass Half Full on Facebook  or Follow him on   Twitter for your daily dose of #Positivismo.
-Otra vez…en español!–
Ayer, me tomé un día libre y quise hacer algo divertido y femenino. Mi primera idea fue un facial en un spa, pero la verdad es que quien tiene ese tipo de dinero para gastar últimamente …
Así que busqué en mi refrigerador y en mi despensa en busca de ayuda … Leche! Avena! Miel! y algunas hojas de menta de mi jardín de hierbas. Facial!
La leche ha sido un ingrediente esencial en de regímenes de belleza a través de los siglos. Se remonta a Cleopatra y sus baños de leche y miel. Sus rutinas de belleza le dio una piel hermosa, suave y radiante.
La leche contiene una amplia variedad de beneficios, incluyendo antioxidantes de las vitaminas A y D, que nutre la piel dándole luminosidad y efectos rejuvenecedores con minerales como el calcio y el potasio.
Así que hoy, estoy tomando un descanso de preparar algo delicioso para sus estómagos. En su lugar, voy a estar preparando algo delicioso para sus cutis.
No gaste su dinero en cremas caras.  La leche contiene un ácido láctico, que también se encuentra en productos de belleza. Esta mascarilla es natural, eficaz y huele increíble.
La miel de esta máscara funciona como un humectante y un hidratante natural. La avena limpian profundamente los poros y actúa como un exfoliante.
Dale una oportunidad a esta simple mascarilla. Estoy en el segundo día y ya puedo sentir la diferencia. Muy pronto le hare la competencia a Cleopatra.
Mascarilla de Leche con Hierbabuena, Avena y Miel
ingredientes
1 taza de leche
3 cucharaditas de avena
2 cucharaditas de miel
4 hojas de hierbabuena
En una olla pequeña, hierva a fuego lento la leche y hojas de hierbabuena. Aparte, y deje que se enfríe.
En un tazón aparte,  agregue la avena y miel a continuación, agregue la leche y mezcle bien con una cuchara. Extienda con cuidado la leche, avena, miel, pasta en la cara evitando los ojos. Cierre los ojos y relájese durante 15 minutos. Enjuague con agua tibia. Refrigere cualquier pasta que sobre y el úsela al día siguiente. Tendrá una duración de 4-5 días en el refrigerador.
Esto es parte de una campaña patrocinada con el Consejo de Procesadores de Leche de California y Latina Mom Bloggers. Conéctate con el Maestro del Vaso Medio Lleno en Facebook y siguelo en Twitter para su dosis diaria de # Positivismo.