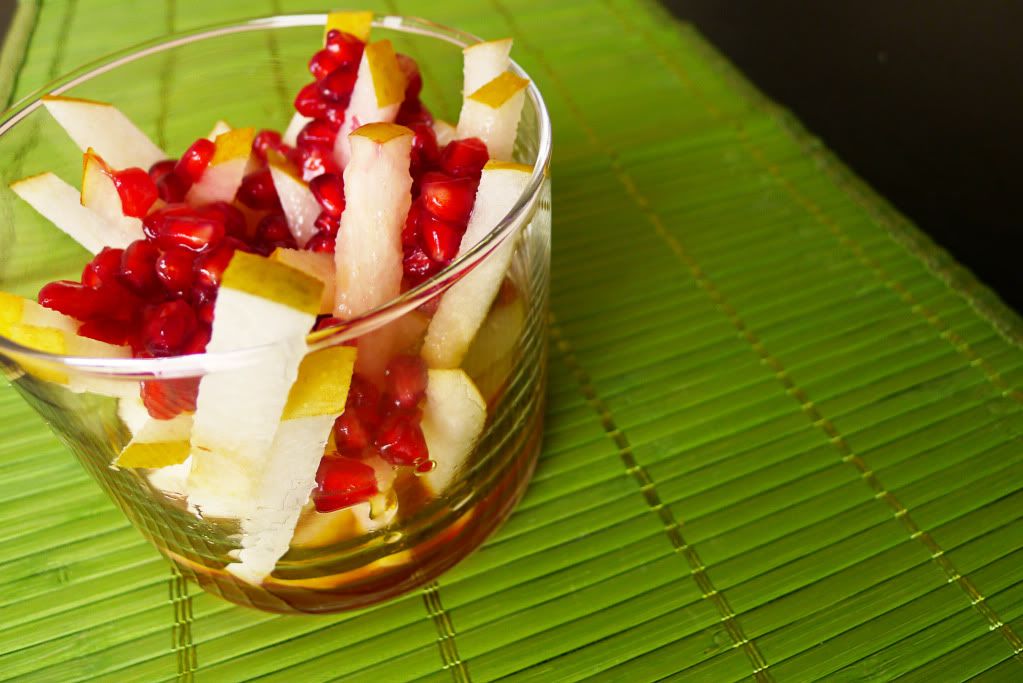 Every single  ingredient used to make this salad was given to me as a gift.  I am going to say that the  pomegranates  I swiped from my neighbor's tree were a gift too.  They hung on my side of the fence, so they are considered mine, correct? A gift from my neighbor, yes…that's it.
Melissa's Produce was kind enough to send me a box of Korean pears and a bag of flavorful pearl onions.  The lemon came from my aunt's tree, oils and vinaigrette's came from random gift baskets (birthday, Mother's day and even a raffle prize I won for a school fundraiser).  All gifts.
The star of this salad-show is definitely the Korean pear.  I love it's crunchy texture, so sweet and juicy.  Every time I bite into one, juice made its way down my arm.  I slurped, crunched and wiped.  Not necessarily in that order. To highlight that sweetness with a bit of acid, I came up with this fun, color and flavor-rich fruit salad.
If I had to picture this salad somewhere, I'm not sure if it belongs in a fruit street cart that sells mango con chile on a stick, or at a dainty high tea gathering. Pinkys up and all.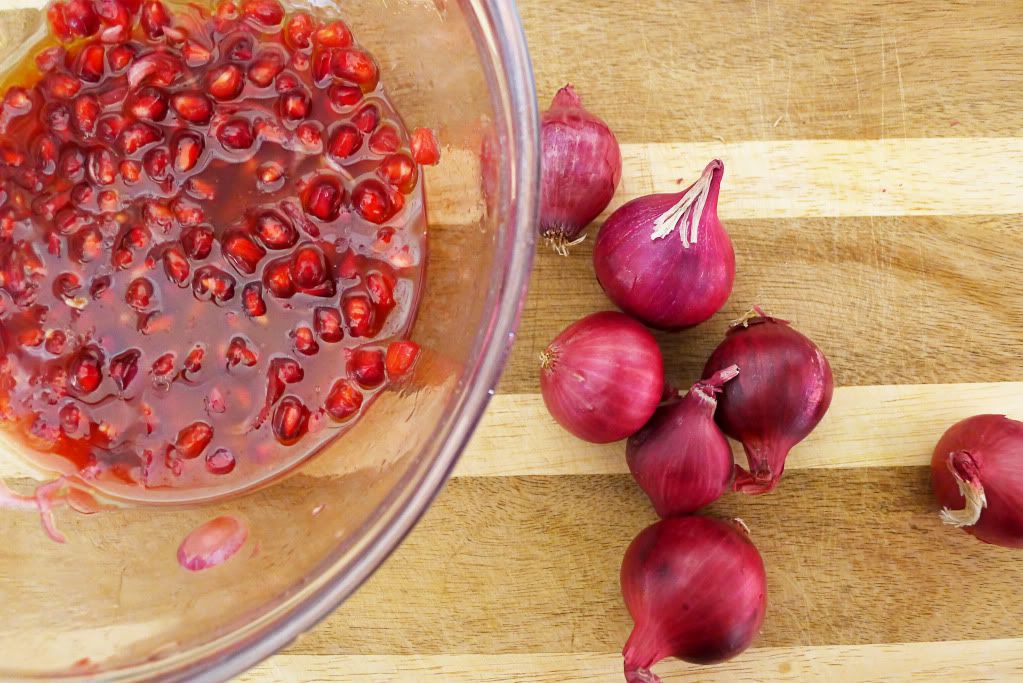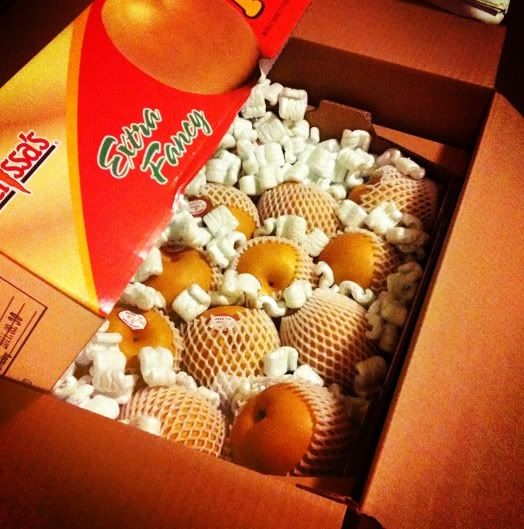 Asian Pear Sticks with Pomegranate
and Pearl Onion Vinaigrette
Ingredients
2 Asian pears sliced into sticks (french fry size)
1 Pearl onion, thinly sliced
3 tbsp fresh pomegranate juice (from 1 – 2 pomegranates), plus 1/2 cup pomegranate seeds
1 tbsp pomegranate vinegar (or sherry vinegar)
2 tbsp extra-virgin olive oil
1 tbsp hazelnut oil
1/2 lemon for juicing
1/2 tsp salt
In four separate cups, place pear sticks, equally divided amongst vessels.
In a separate bowl, place diced pearl onion, pomegranate juice, pomegranate seeds, vinegar and salt in a bowl.  Let sit for 5 minutes.  Whisk in olive oil and hazelnut oil.
Pour pomegranate vinaigrette atop pear sticks, drizzle with lemon juice and enjoy!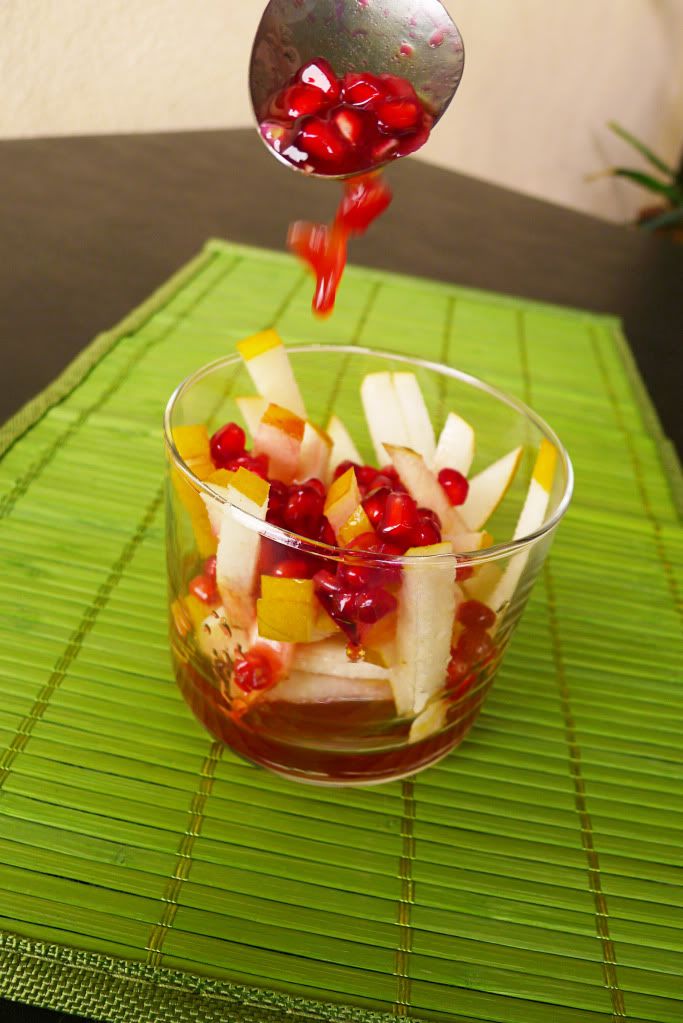 –otra vez…en español!–
Cada ingrediente utilizado para hacer esta ensalada se me dio como un regalo. Voy a decir que las granadas que "tome" de el árbol de mi vecino fueron un regalo también. Colgaban de la rama hacia mi lado de la cerca, por lo que se considera propiedad mía, ¿correcto? Un regalo de mi vecino, sí … eso es.
Melissa's Produce tuvo la amabilidad de enviarme una caja de peras coreanas y una bolsa de cebollas perla. El limón viene de el árbol de mi tía, los aceites y vinagreta fueron varios regalos (cumpleaños, Día de la Madre e incluso una rifa en donde gané en un recaudador de fondos de la escuela). Todos regalos.
La estrella de esta ensalada es sin duda la pera coreana. Me encanta su textura crujiente, muy dulce y jugosa. Cada vez que doy un mordisco a una, el jugo chorrea en mi brazo hacia el codo. Me sorbió, crujió y me secó la boca. No necesariamente en esa orden. Para balancear la dulzura de esta deliciosa fruta, le agregue un poco de ácido. El resultado es una mescla muy divertida, colorida y deliciosa en esta ensalada de frutas.
Si tuviera que imaginarme esta ensalada en algún lugar, no estoy segura si pertenece a un carrito frutero de la calle que vende mango con chile o en una reunión de té de alta sociedad. Con el dedo meñique apuntando hacia arriba.
Peras Coreanas
con vinagreta de Granada Cebolla Perla
ingredientes
2 peras Coreanas cortadas en palitos
1 cebolla perla, cortada en rodajas finas
3 cucharadas de jugo fresco de granada (el jugo de 1 a 2 granadas), más 1 / 2 taza de semillas de granada
1 cucharada de vinagre de granada (o vinagre de jerez)
2 cucharadas de aceite extra virgen de oliva
1 cucharada de aceite de avellana
1 / 2 limón
1 / 2 cucharadita de sal
En cuatro tazas separadas, coloque los trocitos de pera, distribuya por igual entre los vasos.
En un recipiente aparte, coloque las rodajas  de cebolla perla, el jugo de granada, semillas de granada, vinagre y sal en un tazón. Deje reposar por 5 minutos. Agruegue y bata el aceite de oliva y aceite de avellana.
Vierta la vinagreta de granada sobre los palitos de pera, rocie con el jugo de limón y disfrute.