I've developed a new evening ritual based on my favorite feel-good drink.  Warm milk.  After a long freeway commute, deadlines and stressful workdays, I like to warm up and wind down with a glass of milk accompanied by a good poetry book.  Lately, I've been absorbing odes by Neruda.  Pure bliss.
Being a fan of tea-lattes, I love to add milk to my decaffeinated teas.  But this time, I tried infusing my milk with calming chamomile to vary it a bit.
I first experienced a version of this drink at a California Dairy catered event.  I was hooked since, and I just had to recreate it and share with you.
The fragrant chamomile and lavender aroma blend enhance the ever-changing flavors of this tea.  Because the tea ice cubes continue to melt, the tea flavor becomes stronger but yet diffuses with every sip.
I cannot express how thankful I am to have been introduced to this delightful drink.  It's a unique way to introduce milk as a delicate drink full of subtle flavors.
My glass of warm milk has grown up.
Want a glass of #positivismo in your life?  Visit The Master of the Glass Half Full on Facebook and Twitter.  I hear his  glass half full attitude is contagious.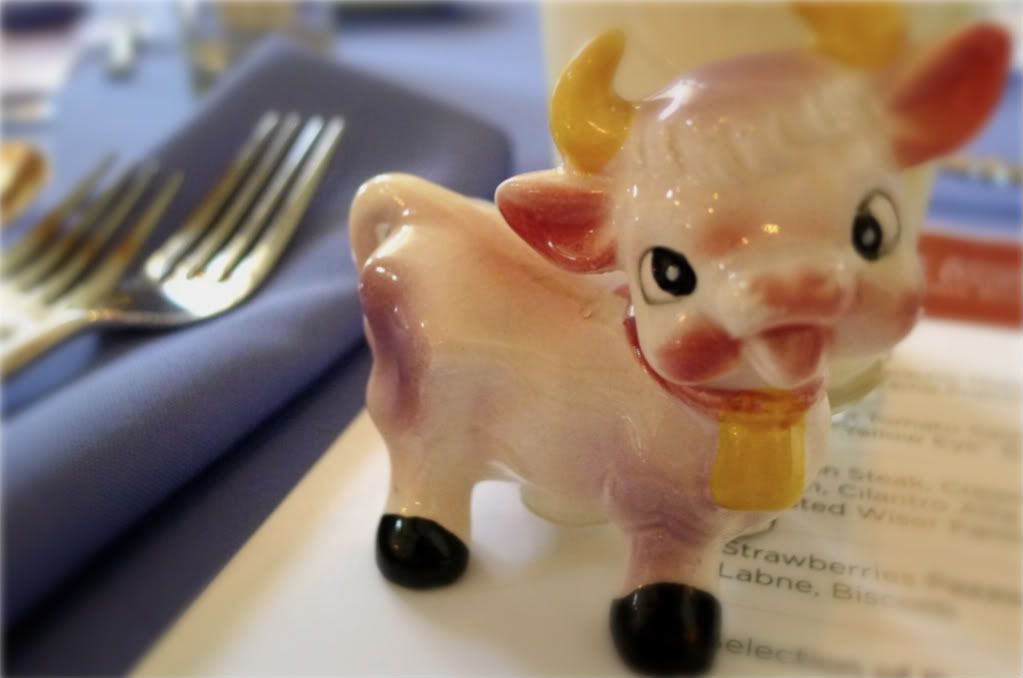 Chamomile Infused Milk
with Tea Cubes and Elder Flower Syrup
Adapted from Chef Reed Herrick
(for the California Milk Processors Board)
2 cups of milk
6 tbsp dried chamomile flowers
ice cubes of your favorite tea
Elder flower syrup (or honey, or agave syrup)
edible lavender for garnish
Place milk in heat proof bowl and place in a shallow pan of water (bain marie) over medium heat. Add dried chamomile flowers to the milk and stir gently. Keep milk warm. Do not boil or form a surface skin. Infuse until the milk smells strongly of chamomile. Strain into a glass jar. Add one or two tea ice cubes, sweeten with Elder flower syrup (or your natural sweetener of choice), and sprinkle some edible lavender for garnish.
Serves 2

This is part of a sponsored campaign with the California Milk Processor's Board and Latina Mom Bloggers
Otra vez… en español!
He desarrollado un ritual vespertino nuevo basado en mi bebida favorita para relajar. Leche caliente. Después de un viaje largo en la autopista, plazos y días de trabajo agotadores, me gusta entrar en calor y relajarme con un vaso de leche tibia, acompañada de un libro de muy buena poesía . Últimamente, he estado absorbiendo las odas de Pablo Neruda. Pura felicidad.
Ser un fan de té con leche, me encanta añadir la leche a mi tés descafeinados. Pero esta vez, traté de infundir mi leche con manzanilla para variar un poco.
Experimenté por primera vez una versión de esta bebida en una lechería de California. Me enganché desde entonces, y lo que recrear y compartir con ustedes.
La manzanilla y la mezcla de lavanda es muy fragante pero el sabor del te mejora debido a que los cubitos de hielo continúan a derretir poco a poco, el sabor del té se hace más concentra, pero aún se difunde en cada sorbo. Armoniosamente equilibrada por el jarabe de flor Elder.
No puedo expresar lo agradecida que estoy de haber sido introducida a esta deliciosa bebida. Es una manera única para introducir la leche como una bebida delicada llena de sabores sutiles.
Mi vaso de leche tibia ha evolucionado.
¿Quieres un vaso de #positivismo en tu vida? Visita del Maestro del vaso medio lleno en Facebook y Twitter. He oído que su buen humor y actitud son contagiosos.
Infusión de Manzanilla y Leche
con cubos de té y jarabe de flor Elder
Adaptado del Chef Reed Herrick
(por la Junta de Procesadores de Leche de California)
2 tazas de leche
6 cucharadas de flores de manzanilla secas
cubitos de hielo de su té favorito
jarabe de flor Elder (o miel, o jarabe de agave)
lavanda comestible para decorar
Coloque la leche en un tazón a prueba de calor y colóquelos en una bandeja poco profunda de agua (baño maría) a fuego medio. Agregue las flores secas de manzanilla a la leche y revuelva suavemente. Mantenga la leche caliente y no deje que hierva o forme nata en la superficie. Infunda hasta que la leche huele fuertemente a manzanilla. Cuele en un frasco de vidrio. Añade uno o dos cubitos de hielo de té, endulce con miel de flores Elder (o su endulzante natural preferido), espolvoree un poco de lavanda comestible para decorar.
Rinde 2 porciones
Esto es parte de una campaña patrocinada con el Consejo de Procesadores de Leche de California y Latina Mom Bloggers.