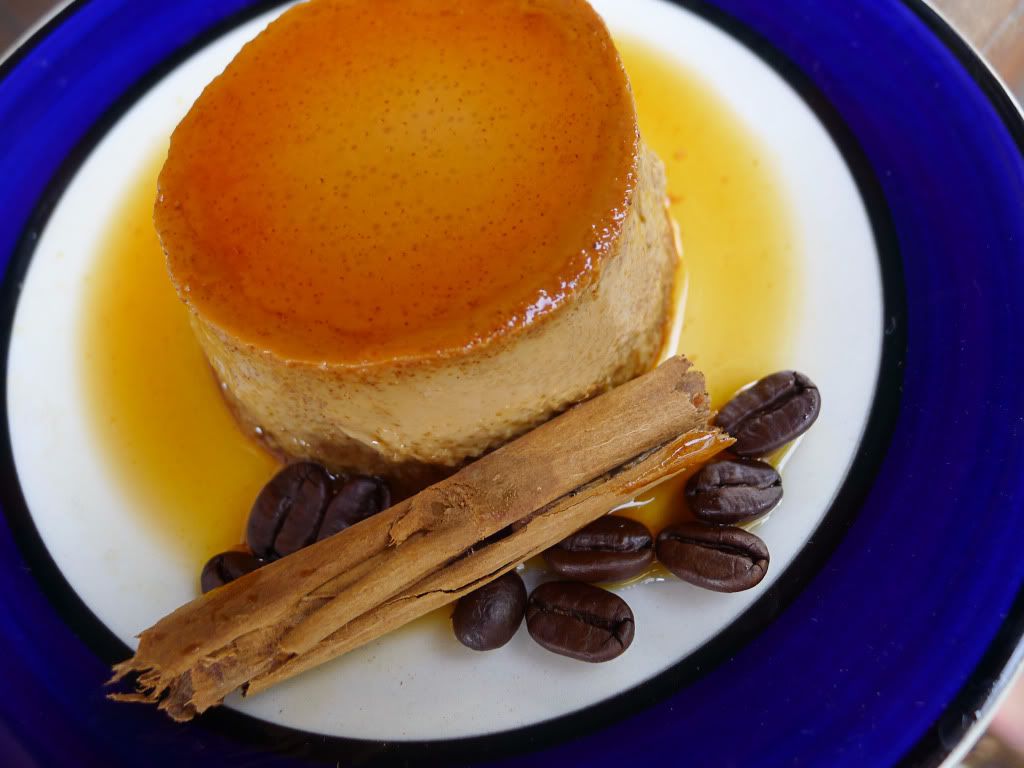 See that photo above?  That photo represents a day full of gratitude…
I am thankful I spent the morning with my aunt over a cup of cafe con canela and an episode of the telenovela, La Hija del Mariachi.
I am thankful I came home to a "just because" orchid from my hubby even though he knows my thumb is as non-green as the color orange.
I am thankful I spent the afternoon creating this flan recipe with my mom and perfected it after only 2 tries and a ruined saucepan.
I am thankful I gave my son a smile as he enjoyed eating this flan.  Twice.
I am thankful I had an impromptu dinner with my friend Nicole and the dinner ended up being free.
I am thankful for you…
Yes, thank you!  Thank you for your emails, your comments and stories you share with me.  I wish I could make this flan for every single one of you, but I can't.
Coffee-Cinnamon Mexican Flan
Ingredients
½ cup La Lechera condensed milk
¼ cup sugar
1 tbsp water
1 ½ cups milk
½ tsp ground cinnamon
1 tsp instant coffee
2 large eggs
1 tsp vanilla extract
Preheat oven to 350.  Place four 3/4 – cup ramekins or flan/custard cups in 13x9x2 inch baking pan.
In a heavy, small skillet, stir sugar and 1 tablespoon water over medium-low heat until sugar dissolves.  Boil but do not stir, hold skillet's handle and slowly swirl pan to incorporate sugar and water.  About 8 minutes.
Immediately pour syrup into custard cups, divide equally.

In a small sauce pan, whisk milk, cinnamon and instant coffee.  Bring to simmer.  Remove from heat and let cook for 15 minutes.
In a medium bowl, whisk eggs then gradually whisk in cinnamon-coffee milk, vanilla and La Lechera.  Divide milk mixture among ramekins.
Pour hot water into baking pan, half way up the sides of cups (bain marie).  Bake flans for 45 minutes or until sides of flans are set but centers are wobbly.  Remove baking pan from oven and let the flans cool in the baking pan with water.  Remove from water and refrigerate overnight.
Run a small knife around flans to loosen. To unmold, place a plate atop ramekin, hold plate firmly and invert.  Shake gently and allow flan to settle onto plate.
Serves 4
— Otra vez…en español!—
Ve la foto de arriba? Esa foto significa s un día lleno de gratitud …
Estoy agradecida de haber pasado la mañana con mi tía con una taza de café con canela viendo un episodio de la telenovela, La Hija del Mariachi.
Estoy agradecida porque al  llegar a casa mi marido me sorprendió con una orquídea nada mas porque si.  Aunque el sepa que yo no tengo ni un pelo de jardinera.
Estoy agradecido de haber pasado la tarde creando esta receta de flan con mi mamá y perfeccionarla después de sólo dos veces y una olla arruinada.
Estoy muy agradecida que mi hijo me dio una sonrisa mientras disfruto comerse este flan. Dos veces.
Estoy agradecida de haber tenido una cena improvisada con mi amiga Nicole y la cena terminó siendo gratis.
Estoy agradecida por ustedes …
Sí, gracias! Gracias por sus correos electrónicos, sus comentarios e historias que comparten conmigo. Me gustaría poder hacerles este flan a cada uno de ustedes, pero es imposible.

Flan de café con canela
ingredientes
½ taza de leche condensada Nestle La Lechera
¼ taza de azúcar
1 cucharada de agua
1 ½ tazas de leche
½ cucharadita de canela molida
1 cucharadita de café instantáneo
2 huevos grandes
1 cucharadita de extracto de vainilla
Precaliente el horno a 350. Coloque cuatro moldes para flan del tamaño de 3/4 de taza en un molde para hornear de 13x9x2 pulgadas.
En una sartén pequeña, mezcle el azúcar y 1 cucharada de agua a fuego medio-bajo hasta que el azúcar se disuelva. Hierva, pero no revuelva con cuchara, sostenga la sartén del mango con las dos manos y revuelva cuidadosamente. El azúcary agua se incorporaran alrededor de 8 minutos.
Inmediatamente vierta y divida el jarabe en los moldes.
 
 En una cacerola pequeña, mezcle la leche, la canela y el café instantáneo a fuego lento. Retire del fuego y dejar enfriar durante 15 minutos.
En un tazón mediano, bata los huevos poco a poco. Incorpore la canela y el café con leche, la vainilla y Nestle's La Lechera. Divida la mezcla de leche entre los moldes.
Vierta agua caliente en el molde de 13x9x2, que llegue el agua a mitad de los moldes (baño maría). Hornee durante 45 minutos o hasta que los lados de los flanes esten firmes, pero los centros un poco aguados. Retire del horno y deje enfriar los flanes en el molde con agua. Retire del agua y refrigere toda la noche.
Pase un cuchillo alrededor de los flanes para aflojar. Para desmoldar, coloque un plato encima de la cazuela, mantenga firmemente e inverta. Agite suavemente y permita que el flan se asiente al plato.
Rinde 4 personas