I am still recovering from
The Los Angeles Times | Food & Wine The Taste
. The three day even had me bouncing (literally) from Hollywood to Beverly Hills to Downtown LA with my camera entow. I was like a crazy tourist snapping away pictures of all the amazing dishes and people that crossed my path. Below is a photo recap of the four (out of nine, yes nine!) events I attended.
On the first night, I attended The Art of Mixing at Paramount Studios and had the honor of attending a cooking demostration and meeting Food & Wine's 2011 Best New Chef, Ricardo Zarate, owner of Mo Chica and Picca Peru
Chefs Ricardo Zarate and John Sedlar Riviera
Cooking Demo
Mariachi El Bronx
Fashion Bites Brunch in Beverly Hills. What better way to spend a glorious Sunday morning than having brunch eating food from LA's top restaurants and a view of Rodeo Drive.
Lobster Sliders
Quail eggs
Sprinkles was there
Something to wash down all that brunchy goodness
Korean Bibimbap
Food Noir, Downtown LA. By far, my favorite event. I loved the atmosphere, location and vibe. A wonderful way to top a cool evening under the Orpheum's neon lights with a performace by Dengue Fever.
Mojito infused watermelon
Pinches Tacos wrestlers
Spicy Pinches Tacos
Hit of the evening: Riviera Restaurant's corn flan topped with black quinoa and squash blossom.
The icing on the cake! Picnic on the Hills was the grand finale to this amazing event. Basking in the sun, we kept cool at the Target picnic section as we drank refreshing mugs of lemonade. This was definitely the foodie family day because there was something for everyone to enjoy.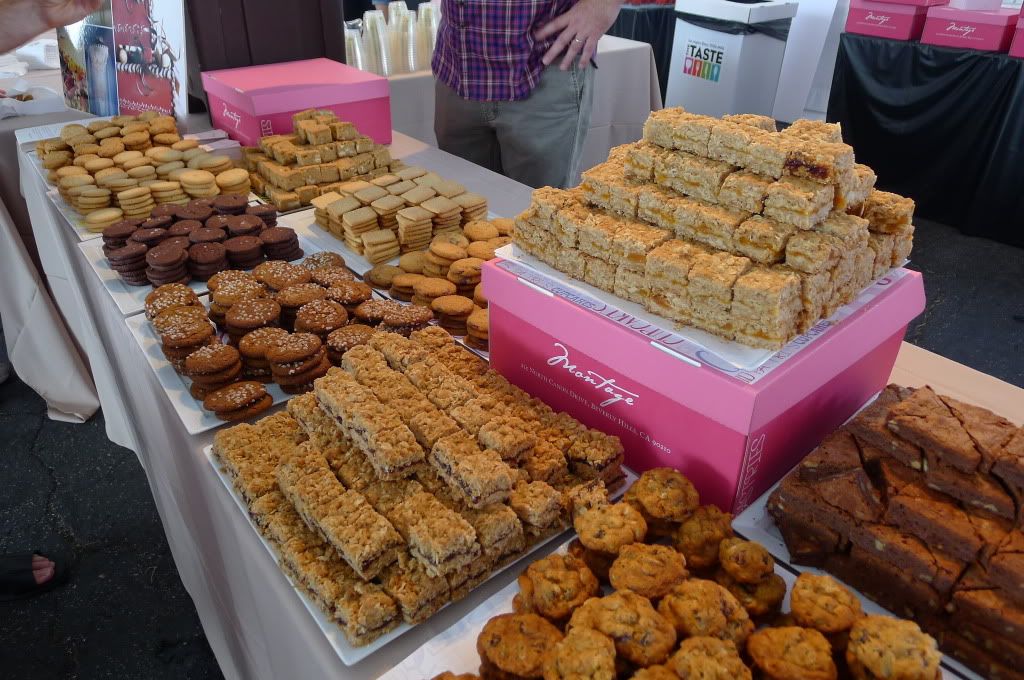 One of my favorites: Lexington Social House Fried Chicken
Kimchi
Left: Food Network Chef, Aida Mollenkamp
An amazing ending to a fabulous event. See ya next year The Taste!
My VIP. My son.